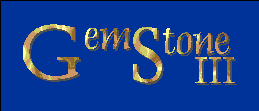 Smabell
---
In the caverns beneath the warfarer mines there lies a shelf and upon that shelf lies a cage. This song is about what occurred to Milo, Geoff, Berr and Gremlynn on day in the cavern.
---
If ye hunt the caverns below
In a place where cold winds blow
There's a tale that I must tell
Bout a sprite that we call Smabell!
An empty cage upon a shelf
Found one day by this here elf
Lie empty in a darkened cave
In truth a cold and lonely grave.
Now Smabell the Bird is surely gone
But in truth it seems that she lives on
Her spirit bright and full of glee
Came to visit a small party.
Upon them she descended to have some fun
To show that she still carried the sun
Her laughter echoed through the room
And quickly lifted that pall of doom.
Then gifts she bestowed an games she played
Till in truth our day was made
I know in my heart its well
That this cavern is home to Smabell.
Now if you hear that child's laughter
You'll surely remember forever after
The joy this being brings our way
Rejoice and shout, Smabell Good day!
Good day!
With a kiss on a ladies cheek which soon began to burn
A gentle laughter echoed down, the words I shall return.

---

And thus they met Smabell the Sprite

---

Return to the Bard's Pavillion

If you have problems, comments, questions, or complaints about the GemStone III pages you can send mail to Nora Melton (ntm@tamcon.com) aka Wanton Destruction.

Last modified 19 December 1995.