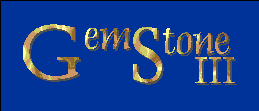 The GemStone III Web BBS Page
---
At long last I have decided to discontinue this BBS system. With the opening of GemStone III on the World Wide Web, the primary reason for this BBS's existance, to consolidate discussion on GSIII-related topics, is no more. If there is continues great interest, I will consider re-opening something similar in the future, but for now it shall be gone. Thank you for your support.
Tim
Felias Catskin
Mordring Ungeheuerjäger
---
Return to the GemStone III home page
If you have problems, comments, questions, or complaints you can send mail to Tim Melton (tam@tamcon.com).
Last modified 11 August 1997.